Do Millennials Start Businesses?
In a session last week, the senior leaders from global tech companies that I was working with were shocked to learn that according to the research Millennials are in fact less entrepreneurial than previous generations. In fact, according to a Wall Street Journal article the number of people under age 30 who own private businesses has reached a 24-year-low.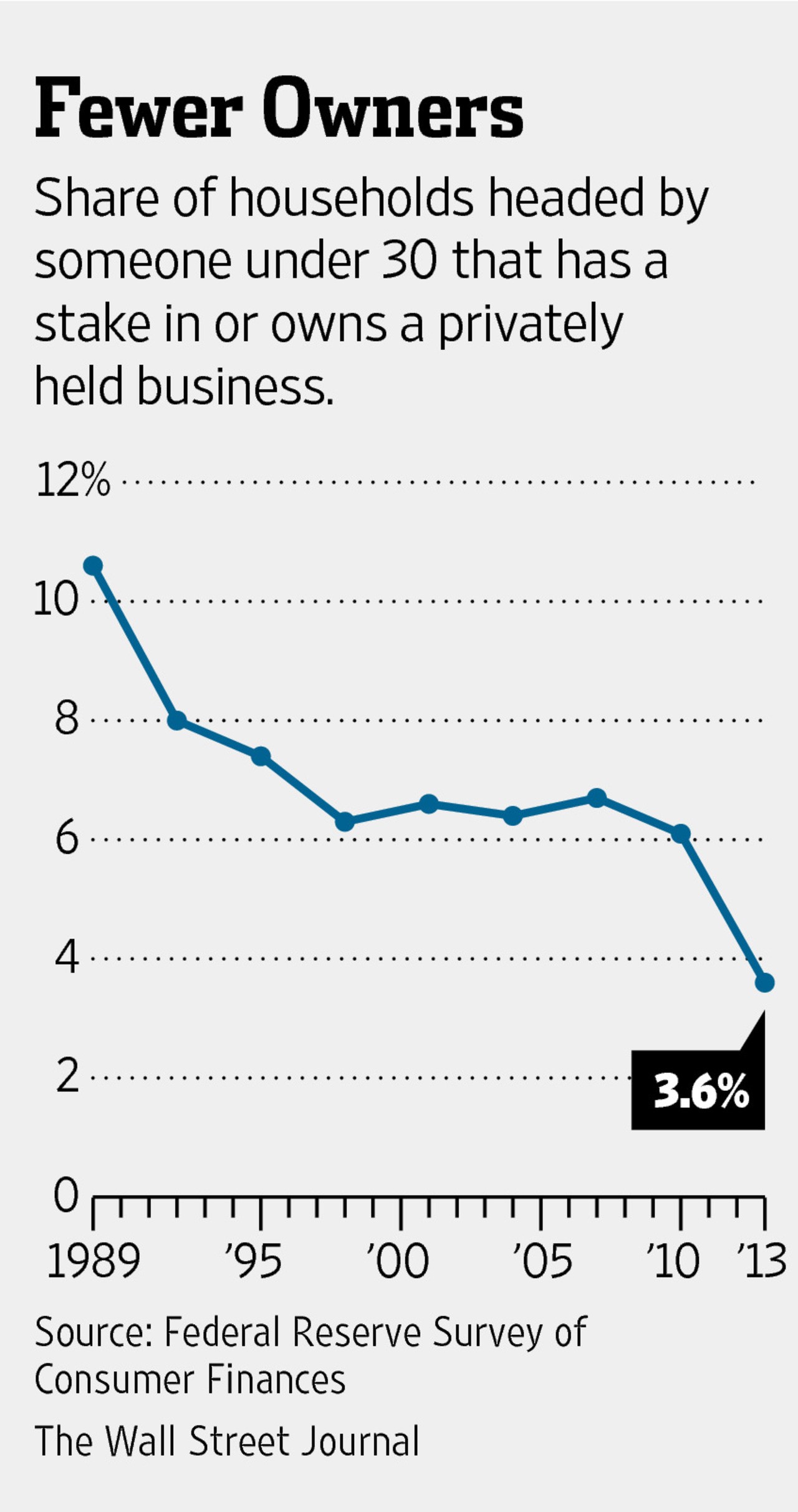 This is in direct opposition to the perception that Millennials are highly entrepreneurial; starting new tech companies, building multi-million dollar apps and are set to retire by age 45.  While there are some highly skilled, very successful Millennials (check out this article on two Millennials who have started a new fintech company), the vast majority of this generation are not choosing the life of an entrepreneur.
In 2013, the proportion of young adults who start a business each month dropped in 2013 to its lowest level in 17 years, according to the Ewing Marion Kauffman Foundation, a nonprofit that focuses on entrepreneurship. People ages 20 to 34 accounted for 22.7% of new entrepreneurs, down 4% in the last decade.
It is suggested that Millennials may avoid starting their own businesses because they face:
Challenges raising money
Challenges gaining skills and experience necessary to start a business
Opportunities for full-time employment
Perception that small business ownership is too difficult due to increased competition
Slower population growth and less demand for products / services
Increase consolidation of large companies that own the market
Poorer financial conditions which reduces their equity to use towards building a business
The decline in young entrepreneurs is part of a broader drop in private business ownership over the past 25 years. Between 2000 and 2012, new business formation slowed even in such high-growth sectors as technology, according to economists.
Fear of Failure
College and University administrations have been ringing the warning bells of a generation that is ill prepared to handle failure and obstacles. Resiliency has declined and calls to campus services has increased for 'crisis' situations such as fights with a roommate, failing a class or breaking up with a partner. For a generation that hasn't been exposed to a lot of failure and the positive lessons that can be learned from not "getting it right", it makes sense for Millennials to be fearful of risking it all and creating a start up business.
According to Donna Kelley, a professor at Babson College "the decline in business ownership among young graduates reflects a relatively low appetite for risk. Young people have less confidence." In an annual survey she oversees, more than 41% of 25-to-34-year-old Americans who saw an opportunity to start a business said fear of failure would keep them from doing so, up from 23.9% in 2001. "The fear of failure is the measure we should be most concerned about," she said.
Creating An Entrepreneurial Mindset In Your Business
In an article in Forbes, author Dan Schawbel says that a major shift is taking place, replacing the typical definition of an entrepreneur — "someone who starts a company" — with a newer definition, one based on the innate mindset of a person who sees opportunities and pursues them. Using this definition, he found in his study that 58% of Millennials defined themselves an entrepreneurial, not necessarily because they have started a company, but because they believe they possess the mindset and are seeking opportunities.  In fact, many young people in today's 'sharing economy' find creative ways to make extra money by leveraging their skills or resources. They could rent out a room in their apartment on Airbnb, drive a few hours for Uber or make products they sell for cash.
The goal as an organizational leader is how to tap into the entrepreneurial spirit and create intrepreneurs – those focused on creating opportunities and innovating within the business. Create opportunities for employees to:
Model intrepreneural behaviours demonstrated by others. Share success stories of employees who have taken a risk, been innovative and looked for new opportunities. The culture of your organization is the most important factor in developing an entrepreneurial spirit.
Focus on projects they are passionate about. If employees are excited and passionate about solving a problem or creating a new solution they will bring the same enthusiasm that entrepreneurs do to their new ventures.
Be comfortable taking risks. Create a culture that encourages risk taking. Support leaders in being strong coaches and mentors to help guide employees on where and when they take a bigger risk.  Don't punish failure – find ways to gain lessons learned and share with the organization. Reward those that seek new, create and innovative ways of doing things and who take risks to try to new things.
Speak up. An intrepreneur should have the ability to challenge the status quo, ask questions that make people think differently and spark conversations that shift people's points of view. Create a venue (live and/or online) where employees can challenge thoughts, debate new ideas and pose thought provoking questions.
Giselle Kovary
As president and co-founder of n-gen People Performance Inc., Giselle is dedicated to building strategies and programs that target, motivate and engage a multigenerational workforce. She is a sought after resource to industry leaders, having worked with 18 of the top Fortune 500 companies. Over 60,000 people globally have experienced an n-gen workshop or presentation. She has devoted more than fifteen years to researching the impact that generational differences have on organizational performance. Giselle has co-authored two books: Loyalty Unplugged: How to Get, Keep & Grow All Four Generations and Upgrade Now: 9 Advanced Leadership Skills. She has a Master's degree in communication studies from the University of Windsor.