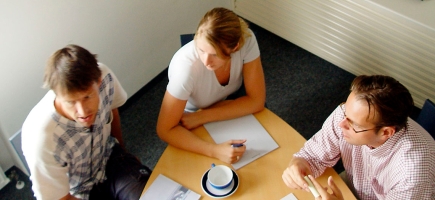 Building a Mentoring Program to Connect Gen Ys & Baby Boomers
In an era where employees are expected to produce more with less, organizations are looking for innovative ways to transfer knowledge, engage employees and support a high performing work environment. Formal mentoring programs are becoming increasingly popular as a way to connect younger, less experienced Gen Ys (mentees) with experienced Baby Boomers (mentors) in order to build a strong learning organization.
Why should you create a formal mentoring program?
Formal mentoring programs are important because they demonstrate that your organization values the development of Gen Ys' skills while acknowledging and harnessing the expertise of experienced Baby Boomers. Mentoring is an on-going, long term process. It's about facilitating positive change through open conversations in a safe environment for both Baby Boomer mentors and Gen Y mentees. The goal is to support mentees' learning and development by helping them gain new knowledge, behaviours and attitudes.
Benefits of Formal Mentoring between Baby Boomers & Gen Ys
A well-structured mentoring program offers numerous benefits, including:
Facilitating knowledge transfer
Enhancing professional and personal development of Gen Y employees
Increasing retention of high performers
Lowering turnover costs
Increasing productivity and performance
Obtaining first-hand knowledge about how Gen Ys think and work
Building a learning organization
Supporting a strong and positive employer brand
Formal Mentoring and Success At Xerox
We've worked with Xerox Canada over the last two years to develop a formal mentoring program that lets Gen Y employees gain guidance and direction on how to build a successful career at Xerox. A key factor of success was ensuring that all stakeholders were clear on the scope of the program (what could and could not be achieved through mentoring) and how the program differed from other performance-based coaching and development initiatives. The project emphasizes that mentors support Gen Y mentees in gaining knowledge by sharing their experiences, by asking great questions, by challenging their decision-making and by expanding their problem-solving skills. The program was supported by the senior leadership and piloted with high performing employees. It has now being rolled out to employees across the organization, with formal training being delivered using e-learning and live virtual sessions.
How to Build a Mentoring Program for Gen Ys and Baby Boomers
Develop a business case for a formal program, including the what, why and how
Design the program & identify all elements (application process, matching process, training, support, evaluation etc.)
Develop & market, including internal communications and marketing to recruit mentees & mentors
Implement, including a pilot program to test out program design
Evaluate, including capturing mentor and mentee feedback throughout the pilot and implementation
Take a Generational Approach
From a generational perspective, it's important to incorporate elements in your program that will engage and connect both Gen Ys and Baby Boomers. Tap into Baby Boomers' desires to contribute, add value and share their experiences by having them become mentors to Gen Y employees. Encourage Baby Boomers to act as a sounding board for mentees' goals and to draw upon their own experience to help Gen Ys successfully navigate the organization.
To align to Gen Ys' expectations that mentoring focus on their individual learning needs, not just what the mentor wants to teach, allow Gen Ys to choose their desired mentor from three potential matches. Match Gen Ys and Baby Boomers based on their specific developmental goals (aligned to your organization's competencies) and allow for matching based on demographic data.
For Gen Ys, it is imperative to create a successful mentoring relationship based on two-way respect and feedback. To achieve that goal, mentors and mentees should participate in a formal training program that outlines their accountabilities and responsibilities.