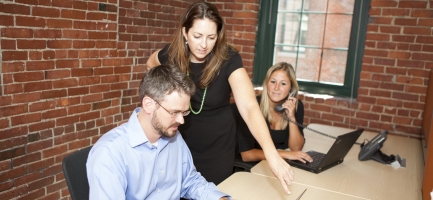 Gen Ys in Today's Workplace
Many of our clients now have a significant portion of their workforce represented by Gen Ys. While this generations numbers in the workplace continue to rise,for young people who have not worked in a professional workplace before, joining an organization can be somewhat difficult. Differences in values, behaviours and expectations can cause issues between Gen Ys and the older colleagues. Many Gen Ys are not familiar with what the previous generations place value on and what their expectations are of new hires.
Unless Gen Ys have their expectations managed in the outset during the recruitment and orientation process, they can become frustrated with their organization's culture and hierarchy. Here are a few tips that help Gen Ys succeed in formal work environments.
Tips for How to Succeed
Keep a record of your own performance
Don't assume that your manager is keeping score of what you are doing well. Your manager may not notice or remember all of the great work you have done.  Keeping track of how you are performing will allow you to demonstrate that you have accomplished assigned tasks successfully and will make it easier for you to ask for a raise or promotion in the future.
Listen twice, speak once
When you make a suggestion for improvement, ensure that you can demonstrate how your idea will help  achieve current goals and strategies. While you may be eager to add value and provide suggestions for how things could change, be aware that  if you suggest an entirely new strategy or approach, this is likely to be too radical for your manager to implement.
In addition, think about how you can go about recommending your suggestion. Frequently, Gen Ys who are new to the workplace do not understand the chain of command in an organization. This can cause them to make suggestions directly to a vice president, president or owner of the company rather than to their direct manager. This often upsets people in the organization since they are accustomed to a hierarchical approach . It is often more successful to suggest changes directly to the person who is responsible for the area /process that you think can be improved.  Then offer  to help your manager to get the request moved upward in the organization.
Find a buddy
Find someone in your organization (either a peer or someone more experienced) and ask them about the culture of your organization. Good questions to ask include:
What does "flex-time" really mean here?
What is acceptable to wear on casual Fridays?
How acceptable is it to use the Internet for non-work related purposes?
Sell the way the buyer wants to buy
Learn and recognize how your colleagues and managers want to be treated and then meet those needs. Your interactions with others should align to their expectations and desires for how they will be treated not the way you want to be treated. The different generations in your organization may expect to be treated differently, for example, treating someone casually or informally when they expect to be treated with a high level of respect can come across as insulting, even if that wasn't your intent.
Negotiate your work schedule
Many Gen Ys expect a work-life balance that blends their personal and professional time together. They want to be able to run errands,go to the gym, conduct banking, etc. during the day and feel that this doesn't impact the quality of work that they produce. They also want the freedom to work from home during the evenings and weekends to achieve their project goals. Older generations often expect a  more formal 9-to-5 work day where employees are in the office for the entire day.
Before assuming a flexible work style, talk to your manager about how you would like to work and negotiate a schedule that meets the organization's expectations while still supporting the lifestyle that you desire. Some managers will worry that if they give employees more flexibility that everyone will want the same things. However, many employees like the idea of working 9-to-5 and leaving when the work day is done. They may not want to work later at night or on the weekends, while Gen Ys may appreciate the flexibility to choose.
Giselle Kovary
As president and co-founder of n-gen People Performance Inc., Giselle is dedicated to building strategies and programs that target, motivate and engage a multigenerational workforce. She is a sought after resource to industry leaders, having worked with 18 of the top Fortune 500 companies. Over 60,000 people globally have experienced an n-gen workshop or presentation. She has devoted more than fifteen years to researching the impact that generational differences have on organizational performance. Giselle has co-authored two books: Loyalty Unplugged: How to Get, Keep & Grow All Four Generations and Upgrade Now: 9 Advanced Leadership Skills. She has a Master's degree in communication studies from the University of Windsor.