We all like getting paid, but the youngest generation is making it a key priority when seeking employment, according to a study by Software Advice– a company that reviews talent management software.  They analyzed 1,400 responses from Gen Y candidates and evaluated how they responded to the question, "What is most important to you in a job?"
Salary and benefits led the list at 34%. However it was closely followed by culture and atmosphere (31%) and fulfillment and satisfaction (30%). So, while money is important, it certainly won't compensate if your workplace environment is poor and if the work Gen Ys are doing isn't perceived as valuable to them.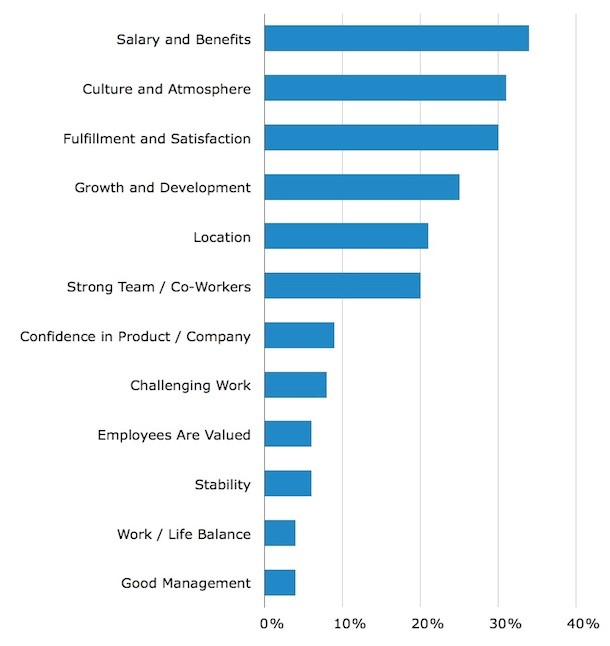 Source: http://new-talent-times.softwareadvice.com/what-gen-y-really-wants-0414/
Employee engagement and retention studies for years have reported that salary and benefits are low on the priority list when it comes to keeping and engaging employees. If pay is equitable in your industry, employees are not likely to hop jobs simply for more money.  They are often seeking other things as well such as a more supportive manager, variety of work, colleagues they respect and meaningfulness in their role. It's for that reason that culture and fulfillment will always remain high on any employee's priority list. When we sacrifice a positive work environment and meaningful work for high pay, we can rarely maintain high levels of engagement.
Interestingly, the author of the Software Advice study noted that "several of those applicants who ranked salary and benefits of lesser importance noted they had previously worked in a high-paying job—and had discovered that money wasn't everything." This suggests that life stages, career stages and work experiences can influence our goals and objectives. This may also be the case for achieving a work/life balance since it only ranked at 4% in this study.
Early in our careers we may place less emphasis on achieving balance and then shift our focus in that direction as our career and personal lives change. However, we do know from working with thousands of leaders, that their Gen Y colleagues expect and demand a fluid work environment that meets their individual needs right away.  It is unlikely that younger employees will stay for long in an organization where they can't blend their personal and professional lives to some degree.
As Gen Ys build their careers they may shift their priorities away from compensation which acts as an extrinsic motivator and more towards intrinsic motivators. As discussed in our book Upgrade Now: 9 Advanced Leadership Skills, high performing employees and organizations focus their attention on cultivating intrinsic motivation which includes:
Mastery = continually improve at something
Purpose = doing things for a purpose larger than oneself
Autonomy = directing our own lives
When employees, especially Gen Ys, can gain a sense of mastery, purpose and autonomy in their work, their motivation and engagement levels rise.  Their performance increases and their rational and emotional commitment to the organization is strengthened.  All of these factors reduce the risk of turnover and shift the focus away from just salary and benefits as a retention tool. Rather, the glue that keeps Gen Ys sticking to your company is fulfillment and satisfaction.
"Growth and Development" was the fourth most important characteristic in the study (25%) which supports the desire for Gen Ys to work for organizations that value learning and development and will help them achieve mastery in their role through continual growth and improvement.
While you need to show Gen Ys the money, the buck doesn't stop there. Whether you want to recruit, retain, engage, motivate or inspire Gen Y employees, the focus should be on providing a work environment where they can collaborate with colleagues, are supported to learn and grow, can find meaningfulness in their work and be intrinsically motivated to succeed.   These factors will engage and retain employees much longer than pay and your organization's ROI will be much higher than if you choose to simply increase salaries.
Giselle Kovary
As president and co-founder of n-gen People Performance Inc., Giselle is dedicated to building strategies and programs that target, motivate and engage a multigenerational workforce. She is a sought after resource to industry leaders, having worked with 18 of the top Fortune 500 companies. Over 60,000 people globally have experienced an n-gen workshop or presentation. She has devoted more than fifteen years to researching the impact that generational differences have on organizational performance. Giselle has co-authored two books: Loyalty Unplugged: How to Get, Keep & Grow All Four Generations and Upgrade Now: 9 Advanced Leadership Skills. She has a Master's degree in communication studies from the University of Windsor.