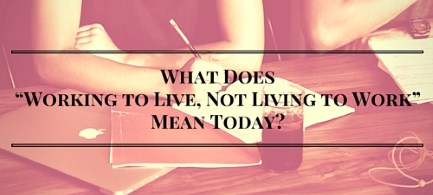 How Do Millennials Balance Work and Life?
You've likely heard the phrase "work to live, not live to work" before, but what does this phrase actually mean? How does it apply to you? And how has this concept changed? It's far more common for people to blend their personal lives and their work together.  As I work remotely from my cottage, I am reminded of how great it is to choose where, when and how I integrate my work priorities with my personal goals. In part, this is possible because I am an entrepreneur and have the ability to fully manage my own schedule. Millennials have been challenging organizations for several years to create more flexible, integrated work environments that allow them to have a greater sense of autonomy and control over their work schedules. If they don't feel it's possible to find work that aligns with their values, they start their own businesses.
In a survey by Sage, an accounting, payroll and payment systems company, they released the results of a global research study on the motivations of Millennial entrepreneurs.
The report found that 66 percent of those surveyed say that life comes before work. Many respondents also stated that reducing the amount that they work and retiring early is a goal. However, the survey also found that 66 percent say that they value work over life.
Does this make sense to you? You may be wondering how these two attitudes mesh. Many people might assume that those who say that life comes before work and who wish to retire early would also value work less than they value life. However, in this survey, this isn't the case. Why not?
The reason seems to be that these young entrepreneurs gain great personal value from their work. They're not just working for a paycheque. In fact, 61% of those surveyed say that they would sacrifice profit to stay true to their values. Having a positive social impact is also a strong motivator for these individuals.
In addition, 34% of Millennial entrepreneurs stated that they are driven by a need to "be a master of their own destiny" rather than profit. Being able to control what they do and the kind of work that they participate in is a driving force.  This isn't just the case with entrepreneurs. We often hear from Millennials in all lines of work that they desire to do work that they are passionate about, that they want to make a difference with their work, and that they wish to work for an organization that helps make the world a better place.
Today, "working to live, not living to work" doesn't mean pushing yourself through the work day and clocking in the required hours until the weekend starts. It also doesn't mean trying to find some time to enjoy yourself in a life that is filled with work. Instead, young people are seeking work that enriches their lives. They are enjoying life more because they are enjoying work more. This is how the concept of work/life balance is changing.
The Changing Definition of Work/Life Balance
In the past, work/life balance meant finding time to have a fulfilling professional and personal life. This typically meant that one's work life and one's personal life were two separate entities that required balance. This also implied that one of these two aspects (work or life) was the "primary" need and that the other needed to "fit in" somewhere in the gaps available.
Today's employees and entrepreneurs don't feel this way. As shown by the Sage study, Millennials want their work to enrich their lives. Rather than putting up a barrier between their personal and professional lives, they are combining them in a way that allows them to gain more enjoyment from both. They create work/life integration, with complete fluidity between their personal and professional commitments and goals. By taking this approach, there is no longer a conflict between work and life, a blended lifestyle results in greater enjoyment of both aspects.
The Impact of Technology
One of the major reasons for this shift to work/life integration is the ability to leverage technology. No longer do employees need in an office, at their desk, to be productive.  We can all easily respond to emails from anywhere on our smart phones, we can conduct video conferences rather than face-to-face meetings, we can stay up-to-date on crucial company information from just about anywhere on earth, and we can do more, faster, better and more efficiently by maximizing technology. Today, in many organizations, it's less of an issue if they leave work a bit early to have dinner with their children, but it's also less of an issue if they respond to work emails on a Sunday. In many ways, this flexibility and the combining of work and life leads to more enjoyment overall.  However, several clients still stress that managers and employees alike need to learn how and when to "turn off" work and truly disconnect in order to recharge.  Learning to say 'No' and carving out dedicated time for work commitments and personal commitments is the key to success.
Technology also lowers barriers to entrepreneurship. In the past, a person may have needed to rent out a storefront, pay full-time staff, and manage a retail store in order to sell a product that he or she developed. Today, this same person can set up an ecommerce store, sell products through Etsy, or use social media to draw attention to his or her website. By using modern technology, entrepreneurs are able to follow their dreams more efficiently. Gen Xers were the first to embrace this concept and Millennials are following suit.
Entrepreneurship allows people to follow their passions and have their work represent their values. One of the ways that many entrepreneurs create balance is by turning something that they love into their career. When you work at something that you are passionate about and that matters to you, you are much more likely to enjoy your work. This makes it feel less like work and makes your overall life happier.
Organizations can take tips from entrepreneurs. Instead of making work a difficult experience that employees need to endure for eight hours a day so that you can spend a few hours each day enjoying themselves, leaders can take steps to allow employees more flexibility to do work that interests them, give them more flexible schedules, and help them to recognize the positive social impact made by the organization. This can make employees happier and more productive.
Giselle Kovary
As president and co-founder of n-gen People Performance Inc., Giselle is dedicated to building strategies and programs that target, motivate and engage a multigenerational workforce. She is a sought after resource to industry leaders, having worked with 18 of the top Fortune 500 companies. Over 60,000 people globally have experienced an n-gen workshop or presentation. She has devoted more than fifteen years to researching the impact that generational differences have on organizational performance. Giselle has co-authored two books: Loyalty Unplugged: How to Get, Keep & Grow All Four Generations and Upgrade Now: 9 Advanced Leadership Skills. She has a Master's degree in communication studies from the University of Windsor.