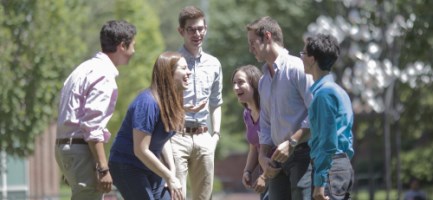 What Organizations are Looking for in New Gen Y Employees
When it comes to hiring new employees, many organizations spend a great deal of time and effort recruiting on campuses and at job fairs. Many job postings clearly state that the organization requires specific post-secondary education or other advanced degrees. However, education is just one aspect that employers look for during the recruitment process.
In fact, some organizations have decided not to hire new graduates at all. There are a number of reasons for this. A 2013 survey  by Adecco indicated that 59 percent of senior executives do not believe that colleges and universities adequately prepare students for today's workforce.
These organizations feel that new graduates lack "soft skills" such as communication, creativity, critical thinking and punctuality.
"I've learned that a past history of success and hard work is more important than a degree or a high GPA," says Bethany Perkins, HR Director at Software Advice. "Candidates who have a proven track record of determination, grit and pride in a job well done are a stronger fit for our office culture."
Software Advice believes that college graduates don't always make the best hires. So what can newer graduates do in order to get additional experience and to become better prepared for the workplace? And what can organizations do to ensure that the new graduates they hire are better prepared for the work environment? Formal internship programs can provide many benefits to organizations and to those looking to land their first 'real' job.
Ensuring that New Gen Y Employees are Prepared for the Work Environment
A Harris Interactive survey of more than 1,000 hiring managers revealed that more than 80% of employers believe that completing a formal internship improves an individual's attractiveness as a candidate.
For organizations that have internship programs, there are a number of things that can be done to ensure that interns are engaged and productive at work, such as offering more flexible work schedules and blending work with social activities. Internships are opportunities to show Gen Ys more about your organization's informal culture. Mentoring programs can also be incredibly successful in helping interns and newer employees understand the expectations of the organization and the ins and outs of everyday life working there.
Successful internships help recent graduates gain real-world knowledge and experience, which makes them much more employable. Organizations benefit from offering internships as they gain access to a pool of potential employees who can more easily fit into the organization.
Giselle Kovary
As president and co-founder of n-gen People Performance Inc., Giselle is dedicated to building strategies and programs that target, motivate and engage a multigenerational workforce. She is a sought after resource to industry leaders, having worked with 18 of the top Fortune 500 companies. Over 60,000 people globally have experienced an n-gen workshop or presentation. She has devoted more than fifteen years to researching the impact that generational differences have on organizational performance. Giselle has co-authored two books: Loyalty Unplugged: How to Get, Keep & Grow All Four Generations and Upgrade Now: 9 Advanced Leadership Skills. She has a Master's degree in communication studies from the University of Windsor.