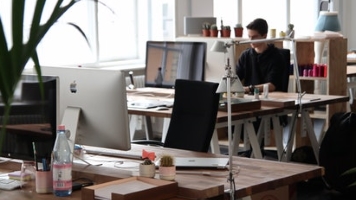 Gen Z's Plan for Career Success
We recently completed Canada's first national survey on Gen Z. In a series of blog posts, we are sharing some key insights and data, which highlight Gen Z's unique perspectives on life, work, and learning.
Gen Z (those born between 1996 and 2012) are graduating postsecondary school and are now entering the working world. This means that, like all generations before them, this cohort is already thinking about their careers and how they will be successful.
Gen Z understands that in order to get ahead, they need to contribute to the organization and be a great team member. This realistic perspective is revealed in how this cohort perceives their role in the workplace:
Eighty-four percent of Gen Z believes it is very important or somewhat important to be able to follow company rules and expectations
Seventy-four percent indicate it is important to 'do what your boss tells you to do' in order to have a successful career
In addition, our survey respondents revealed clarity around business realities. They ranked 'making customers happy' as a key factor (85%) in their success, which demonstrates maturity as it relates to meeting business needs.
Gen Z holds a practical view of what is required to be successful, ranking the top 3 most important factors needed to progress in their careers as:
The ability to adapt to change (88%)
Being a great team member (87%)
Being innovative and solving problems (86%)
The data from our survey suggest this generation understands the need to follow direction, respect authority and pay their dues.  This is a departure from what we saw with Millennials and is remnant of more traditional values. We anticipate that this generation will bring different expectations into the workplace, but will not radically rock the boat.  In fact, 67% of our survey respondents said they when getting a new job, they would "feel lucky" to have that job, versus believing the company would be lucky to have them as an employee.
Giselle Kovary speaks with CBC's Calgary Eyeopener about the workplace attitudes of Generation Z
A Commitment to Learning
Gen Z also places a lot of importance on education and believes that learning is crucial for more than just getting a job. In our survey, 71% of respondents believe that education is much more important for developing critical thinking skills than for just qualifying for a job. Only 29% believe that education is only useful if it helps launch or advance their careers.  This is great news, as it indicates a desire for learning for learning sake.
Not only will Gen Z succeed in the workforce due to their level of education (this is a very well-educated generation) but this cohort wants to learn continuously, and not just in school. In fact, 89% stated that they expect to learn new things throughout their lives.
Organizations can take advantage of this fact, and attract Gen Zs, by providing them with opportunities to learn and grow throughout their careers. Offering a wide range of learning and development opportunities will demonstrate to Gen Zs that your organization shares their values.
It is important for organizations to involve Gen Zs in selecting and designing educational opportunities, however, rather than having a prescriptive learning path for them. This is because 71% of Gen Zs say that they learn best when they have a say in their learning experience.
Key insights from our data can guide educators and organizational L&D teams by designing learning that aligns to Gen Z's top five learning preferences:
Self-directed learning
Collaborative problem solving
Practical and real-world focused learning
Integration of external sources of information
Leverages technology
Giselle Kovary
As president and co-founder of n-gen People Performance Inc., Giselle is dedicated to building strategies and programs that target, motivate and engage a multigenerational workforce. She is a sought after resource to industry leaders, having worked with 18 of the top Fortune 500 companies. Over 60,000 people globally have experienced an n-gen workshop or presentation. She has devoted more than fifteen years to researching the impact that generational differences have on organizational performance. Giselle has co-authored two books: Loyalty Unplugged: How to Get, Keep & Grow All Four Generations and Upgrade Now: 9 Advanced Leadership Skills. She has a Master's degree in communication studies from the University of Windsor.