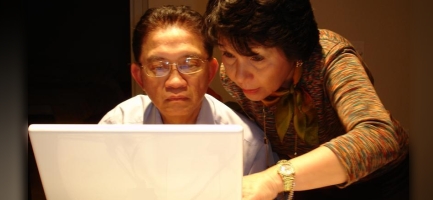 How to Use New Technology in Learning & Collaboration
Technology evolves and changes rapidly. Just a few years ago, few people knew what Twitter, Instagram, Tumblr and Pinterest were. In fact, some of them didn't even exist! Today those networks and services are used by millions and millions of people each day. The iPhone didn't exist until 2007. The first Android-powered phone appeared in 2008. Technology has changed a great deal in the last few years.
New services, devices and technologies are much more integrated into our daily lives than they were just a few years ago. Therefore, it is important for companies to understand and embrace new technology, especially when it comes to learning and collaboration.
Increasingly sophisticated applications are now available to us on smaller, more portable devices. The ability to watch video, send instant messages, review documents and communicate with peers around the world from almost anywhere is now an expectation. In fact, the very question of why we need to embrace new technology may be an outdated one. It appears that our society already has!
But many organizations still struggle with how they can incorporate technology into the day-to-day functions of their teams.
Why Embrace New Technology in the Workplace?
Younger employees – particularly Gen Ys – come to work already equipped with mobile devices that allow them to connect with friends and colleagues through text messaging, e-mail and social networking sites such as Facebook and Twitter. They not only understand these technologies, but they often use them as their main forms of communication. Many Gen Ys would not consider picking up a phone to talk to someone when they have many other, usually faster, communication options available. Mobile phones and tablets are used to communicate with each other, share ideas and schedule all facets of our professional and personal lives. This means that employees now have a greater expectation that their organizations will leverage technology to enhance learning and team collaboration.
Recent research reveals that Baby Boomers are also very eager to use technology in the workplace. Reasons for this include the ability to have a flexible work schedule and to more efficiently manage their workload.
If we are all using technology in our personal and professional lives, the need to focus on maximizing use becomes paramount to creating an efficient, productive workplaces. When managed properly, technology can increase communication and productivity through just-in-time learning and group problem solving as well as enhance the ability for global and virtual teams to collaborate.
Technology to Enhance Learning & Collaboration
Social media is comprised of more than just social networking sites such as Facebook and Twitter.  Social media includes blogs, shared work spaces (like Share Point) Wikis, networks (like LinkedIn) and video (like YouTube).  All of these technologies can be leveraged to:
Inspire open and honest dialogue among team members
Allow for real time colleague / stakeholder feedback
Spark creativity through exposure to a wide range of thoughts / perspectives
Improve knowledge management
Test out ideas quicker, thus reducing planning cycles
From a learning standpoint, incorporate the following tips to improve the knowledge transfer:
Use instant messenger to expedite discussions and problem solving
Create a private discussion group for collection of information during course development
Use social bookmarking – collecting and storing bookmarks online, tagging them with keywords and sharing
Giselle Kovary
As president and co-founder of n-gen People Performance Inc., Giselle is dedicated to building strategies and programs that target, motivate and engage a multigenerational workforce. She is a sought after resource to industry leaders, having worked with 18 of the top Fortune 500 companies. Over 60,000 people globally have experienced an n-gen workshop or presentation. She has devoted more than fifteen years to researching the impact that generational differences have on organizational performance. Giselle has co-authored two books: Loyalty Unplugged: How to Get, Keep & Grow All Four Generations and Upgrade Now: 9 Advanced Leadership Skills. She has a Master's degree in communication studies from the University of Windsor.