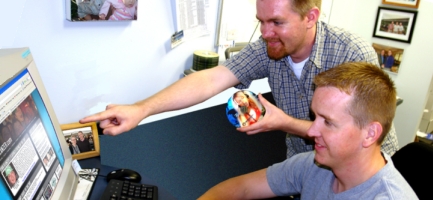 Why are some Baby Boomers reluctant to transfer knowledge to Gen X & Gen Y employees?
Many organizations report two challenges with knowledge transfer. The first is creating a process or a program by which knowledge transfer is successful and the second is being able to convince Baby Boomers to freely and openly share their knowledge. In opposition to Gen Ys who might focus on what value an organization has as an employer, Baby Boomers focus on what value they can provide to an organization. One way in which they provide value to an organization is by being an expert in their role. Being an expert can mean being an expert knowledge worker who knows specific content, policies or regulations inside and out or being a star administrator who knows all the processes, practices and connections that make the operation run efficiently. Regardless of how expert if defined, Baby Boomers are reluctant to pass on that knowledge because they feel that will decrease their value.
Why are Baby Boomers Cautious About Transferring Knowledge to Gen Xers and Gen Ys?
In general Baby Boomers are much more cautious about change than Gen Xers and Gen Ys. They have seen a lot of change in their organizations and the change has not always been positive. Markets fluctuations have caused organizational restructuring. And while change is often positioned in a positive light for the organization by senior leaders, the impact of the change has not always been positive for the individual Baby Boomer. As a result, it is only natural that when organization asks Baby Boomers to share or pass on their knowledge to Gen Xers and Gen Ys, they will initially be suspicious. They sometimes feel that if they pass on all of their knowledge, they may make themselves redundant. They worry that employees who are redundant are usually let go.
Responding to Baby Boomer caution
Since now we understand why Baby Boomers are cautious, we recognize that more communication is required to help Baby Boomers understand why they need to participate in knowledge transfer. First, Baby Boomers need to understand that knowledge in and of itself does not give one 'power.' In this modern age, where information flows like water and is available 24/7, Gen Xers and Gen Ys do not see a person who has knowledge as powerful; rather, they see what you can do with the information as powerful. So for Baby Boomers we need to position that it's their skills and experience that provides them with additional value in the organization, not just the knowledge they possess in their role.
Secondly, we need to communicate that the act of sharing knowledge gives them value in the organization.
Lastly, we need to be transparent as to why we are asking the Baby Boomer to share their knowledge – how does it link to organizational objectives and strategies? How might being a champion of knowledge sharing actually raise their profile in the organization?
Giselle Kovary
As president and co-founder of n-gen People Performance Inc., Giselle is dedicated to building strategies and programs that target, motivate and engage a multigenerational workforce. She is a sought after resource to industry leaders, having worked with 18 of the top Fortune 500 companies. Over 60,000 people globally have experienced an n-gen workshop or presentation. She has devoted more than fifteen years to researching the impact that generational differences have on organizational performance. Giselle has co-authored two books: Loyalty Unplugged: How to Get, Keep & Grow All Four Generations and Upgrade Now: 9 Advanced Leadership Skills. She has a Master's degree in communication studies from the University of Windsor.