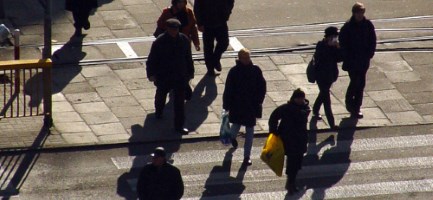 When working with people, leaders – particularly those who have been promoted into senior roles because of their strong technical skills – often secretly admit to me that they "don't even really like people!" The comment is usually made out of frustration with having to spend "so much time on people issues", instead of what they consider to be "real business" issues. The challenge for these leaders is recognizing that the real business they are in is leading others. And that for their team and organization to excel they need to focus on how to motivate, engage, inspire, inform and increase the performance of the people who report to them.
People Leadership Skills Essential to Success
Every client I speak with in HR and/or Talent Management laments about the same challenge in their organization: the need is to evaluate people leadership skills.  The audience may differ, sometimes front line managers need more introductory learning on how to effectively lead and manage. Other times, middle managers are the focus because they are squeezed between senior leadership who sets the strategic direction, and front line leaders who execute it.  Those in the middle require support on how to motivate, engage, coach and better manage performance. Occasionally clients will engage us because there are some senior leaders in their organization that aren't "people focused enough" and therefore need a refresher on strategic impact and risks of not properly managing the organization's human capital.
Overall the most common leadership gaps are:
o   Providing feedback
o   Conducting difficult conversations
o   Shifting the workplace culture
o   Embracing a more collaborative leadership style
o   Creating a diverse and inclusive environment
Motivating employees – particularly diverse workforces
Communication skills
Managing and Engaging Gen Ys / Millennials
Retaining high performing employees
How to drive performance
o   Building a high performing team
What To Do When Leaders Are Disengaged?
Leaders and managers often struggle with how to close their learning gaps because they themselves are feeling disengaged.  They are over-worked, overwhelmed and "so over" the corporate rhetoric that they are the ones responsible for getting, keeping and engaging the right employees, at the right time.  They say they just want to do the job they were hired to do. They want to be amazing engineers or accountants or technical experts in their field.  Focusing on the 'soft' skills isn't what they signed up for.  The biggest obstacle to engaging employees are leaders who feel disconnected from their role as a people leader and feel they are being asked to offer something to their teams (collaboration, open communication, clear performance expectations) that they don't receive from those above them.
Before your leaders can be effective, they need to be highly engaged.
You can achieve that by:
Focusing on their development

What formal and informal learning do they require?
How can more senior leaders get involved?
Rewarding the right behaviours

Are observable behaviours clearly outlined?
How will demonstrating strong people skills be rewarded financially and non-financially?
Supporting and valuing their efforts

What support needs to be provided to them to be successful?
How will they feel valued for their people leadership contributions?
Offer An Out
If strong technical leaders don't want to pursue people leadership roles often there isn't anywhere else for them to grow in the organization.  The only way up the traditional corporate ladder is to manage people and have direct reports. This isn't appealing for many experts, especially those that take great joy in their functional tasks and wish to remain high performing individual contributors.  Some studies suggest that Millennials (Gen Ys) are less likely to desire taking on management roles as they progress in their careers.  They are opting out of the typical career path of "up or out" and are instead seeking roles that tap into their strengths and values while offering work-life integration. This desire to remain "in the business" instead of leading the business may cause a gap in organizations as the talent pool for people leadership roles is diminished.
Many of our clients have created parallel tracks for individual contributors, which allows a high performing employee to rise in the organization without having to take on the responsibility of leading and managing others.  This is a great op-out option for those that don't desire leading others, yet want to continue to grow in their roles. Don't try to force a square peg into a round hole.  Focus on the strengths of your workforce and develop those that are eager to learn and want to expand their comfort zone by becoming a strong people leader.  If someone really doesn't like people, let's not spend our time, money and energy shifting that attitude. Instead offer an alternate growth path and engage someone who wants to learn.
Giselle Kovary
As president and co-founder of n-gen People Performance Inc., Giselle is dedicated to building strategies and programs that target, motivate and engage a multigenerational workforce. She is a sought after resource to industry leaders, having worked with 18 of the top Fortune 500 companies. Over 60,000 people globally have experienced an n-gen workshop or presentation. She has devoted more than fifteen years to researching the impact that generational differences have on organizational performance. Giselle has co-authored two books: Loyalty Unplugged: How to Get, Keep & Grow All Four Generations and Upgrade Now: 9 Advanced Leadership Skills. She has a Master's degree in communication studies from the University of Windsor.