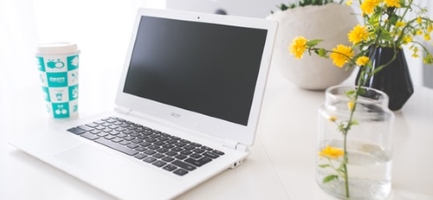 Absolutely!  When employees are healthier they bring the benefits of their lifestyle with them to work and everyone wins.
The Connection Between Health and Productivity
Now that more pleasant spring weather is finally here, a lot of us are coming out of hibernation (I hate the cold weather!) and getting active. While we may have been less active during the winter, spring is a time when we often turn our attention back to living a healthy and active lifestyle.
Not only does being healthier help us avoid injuries and illnesses, but it also makes us more productive. Research from the Health Enhancement Research Organization (HERO), Brigham Young University, and the Center for Health Research at Healthways found that employees who eat five or more servings of fruit and vegetables at least four times a week are 20 percent more likely to be productive.
The same study also showed that those who exercise at least 30 minutes a day, three times a week, were 15 percent more likely to have greater job performance. People who are healthier are able to focus, handle stress better, and are less likely to miss work due to illness. In addition, healthier people are more likely to have high morale and enjoy their work.
Given all of these benefits, it really is a win-win for organizations and employees when their health is improved.
What Organizations Can Do
Since healthier individuals are more productive, more focused, less stressed, and happier, it make sense that organizations want their employees to be healthier. However, the challenge comes when considering exactly how to support these efforts. It's a fine balance between encouraging a healthier lifestyles and invading personal privacy, being too forceful, and possibly making team members feel uncomfortable.
Therefore by providing employees with the tools, support and resources required to live a healthy lifestyle, organizations are investing in their own performance and productivity.
One of the least intrusive steps that an organization can take is to provide employees with information on the benefits of living a healthier lifestyle. Many people don't know what "living a health lifestyle" actually entails and what they will gain by incorporating new, healthy habits into their life. When explaining the benefits, be sure to include ones that help the individual, not just the organization. For example, an employee is more likely to respond positively to "Living a healthier lifestyle makes it easier to cope with stress" than "Living a healthier lifestyle will reduce the number of days you are away from work."
Another way to encourage employees to live a healthier lifestyle is by providing health-focused options. This goes beyond offering healthy foods in your cafeteria, to broadening the reach to include different types of activities that will enhance employees' overall health.  Consider bringing in a juicer, blender, and any other appliances that will encourage healthy eating. You'll also want to make sure that your office has an onsite fridge so that individuals can easily store lunches that they bring from home.
Offer an onsite gym, fitness classes or yoga. If an onsite gym isn't possible, you may wish to partner with a local gym to offer discounts to employees or have a bicycle shop rent bikes onsite at lunchtime for a short fitness break. Another way to highlight the importance of health is to centre organizational events around doing something active or health focused. Consider having a social "team walk" to get people moving, or a health conscious cooking class.
Competition is another way to encourage people to live healthier lifestyles. For example, you could encourage team members to wear fitness trackers or pedometers and then provide rewards for those who walk the most steps. You can give away a fitness trackers (such as a FitBit) as a prize based on achieving a personal fitness goal. If a lot of people in your organization smoke, you could build a team who can support those who are trying to quit and offer various incentives. All of these activities can be complemented by providing presentations, webinars and lunch 'n learns that inform and motivate employees to live healthier lifestyles.
Finally, leaders in your organization can encourage healthy behaviours through their own actions. If team members see leaders taking the stairs instead of the elevator, eating healthy homemade lunches, and going for walks on their breaks, they are more likely to follow their lead, than if leaders on't practice what they preach.
It's important to remember that not everyone has the same athletic ability and some may have mobility issues, so  it's crucial that the organization not unfairly characterize, punish, or exclude these individuals. Instead, take the time to think of events and programs that are inclusive for all levels of fitness and ability and that encourage a healthy lifestyle while having some fun.
Giselle Kovary
As president and co-founder of n-gen People Performance Inc., Giselle is dedicated to building strategies and programs that target, motivate and engage a multigenerational workforce. She is a sought after resource to industry leaders, having worked with 18 of the top Fortune 500 companies. Over 60,000 people globally have experienced an n-gen workshop or presentation. She has devoted more than fifteen years to researching the impact that generational differences have on organizational performance. Giselle has co-authored two books: Loyalty Unplugged: How to Get, Keep & Grow All Four Generations and Upgrade Now: 9 Advanced Leadership Skills. She has a Master's degree in communication studies from the University of Windsor.