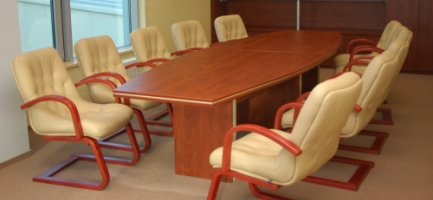 Change Management During Downsizing
Unfortunately, downsizing can be necessary sometimes. However, that doesn't mean that it's not a difficult process. Downsizing introduces many challenges and changes into an organization. Those employees who remain may have feelings of unease, anger or discomfort due to the experience.
It is natural for employees to feel uncomfortable, offended or afraid. After all, not only will many people miss their co-workers who are now gone, but they may also fear that another round of downsizing could be coming in the future and they may worry that they might be next.
These concerns can lead to high levels of stress, increased conflict between team members and even employees leaving the organization to look for opportunities elsewhere.
How Organizations Change During Downsizing
Work processes and individual responsibilities change when there are layoffs. Employees are required to do more, with less. They may need to take on other roles and responsibilities in order to keep the organization functioning effectively despite fewer staff members. These changes can be difficult for employees to accept.
Downsizing can also harm an organization's culture in a number of ways. Feelings of trust and a strong team dynamic may be shattered by layoffs. If your organization needs to downsize, there are ways that leaders can help employees deal with this experience in the best way possible and keep the team working effectively.
Helping Employees & the Organization During Downsizing
Communication is very important, especially during times of change. It's crucial that leaders help remaining employees understand why downsizing was necessary. Informed employees who understand the rational for the downsizing will be able to feel more confident about the choices that were made and hopefully less concerned or worried. Frequent communication is critical. Leaders should make every effort to speak with each employee individually and let him or her know that they are valued within the organization. These one-on-one meetings allow employees to express their opinions about the situation and to ask questions.
Each employee will respond differently to downsizing. Some will have more difficulty accepting the changes than others. This can often be the case for employees who have gone through previous rounds of layoffs, especially if those situations were not handled well. On the other hand, some employees will be excited by the prospect of a new direction, fresh challenge and will work harder to prove themselves during these times of change. It's important that leaders observe how the members of their team are responding and that they assist the team in whatever ways they can to make the transition successful. They may include increasing the number of team discussions and team building events.
People need support during change. Downsizing can be very stressful, therefore, having a support system is important. Managers and leaders should be a part of this support system so that it doesn't result in an "us versus them" situation where employees bond over a mutual dislike of the leadership team.
There will be a period of transition where the organization will not be as productive as it once was. It's important for leaders to recognize this reality and give employees time to not only cope with the downsizing process, but also to learn their new roles and responsibilities in the organization. Training should be provided in order to help the team transition into the new reality and support employees in being set up for success.  This will increase feelings of empowerment and engagement and will ensure a 'new normal' is created.
Giselle Kovary
As president and co-founder of n-gen People Performance Inc., Giselle is dedicated to building strategies and programs that target, motivate and engage a multigenerational workforce. She is a sought after resource to industry leaders, having worked with 18 of the top Fortune 500 companies. Over 60,000 people globally have experienced an n-gen workshop or presentation. She has devoted more than fifteen years to researching the impact that generational differences have on organizational performance. Giselle has co-authored two books: Loyalty Unplugged: How to Get, Keep & Grow All Four Generations and Upgrade Now: 9 Advanced Leadership Skills. She has a Master's degree in communication studies from the University of Windsor.