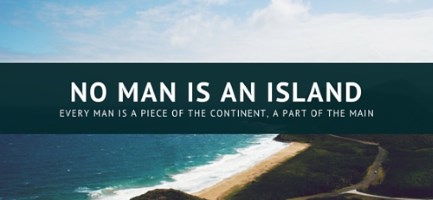 The famous quote by English poet John Donne "no man is an island" popped into my head this week I was contemplating all the things I need to do and want to do this year.  We are all "part of the main" says Donne and as such no one is entirely self-sufficient; everyone relies on others.  It helped remind me that I will need to lean on others to achieve my success; that I can't always go it alone. This interdependence is essential to families, communities, companies and countries.  We all must depend on others to some extent to help us achieve our goals.
Research supports the notion that those who have strong networks are happier and more productive than others who do not. In business, this is particularly true as by nature, we rely on others to do their part to contribute to a team, departmental or organizational goal. We also feel more engaged and committed to our team members when the work environment is supportive of all.
Paying It Forward
Paying it forward at work – by supporting and helping your colleagues – is a great way to increase trust and bonding.  We all go through tough times, either at work or at home, but having colleagues that care, and are willing to help ease your burden, are what makes working in a team so rewarding.
A study conduced by the AAT of 2,000 people found that eight out of ten people would prefer to work in a happy environment and get along with colleagues than earn a high wage. They found that employee would rather: enjoy their role, get along with their boss;  and have a good commute than bringing home a large pay cheque. In addition, a third of the people polled had actually left a well-paid job because the pressure associated with it wasn't worth the big salary.
One of the things that organization can do to create a collaborative and supportive team environment is by providing team rewards where everyone wins if the team / department achieves its goals.  This helps create a sense of togetherness and interdependence.
Commission For All?
In a HBR article Why We Pay All of Our Employees A Commission the authors discuss how their organization puts everyone on a commission structure. They believe that because "every employee contributes to sales, so we pay everyone based on company revenues, instead of using a more traditional bonus or profit-sharing plan."
While the commission ratios vary from each development, the metrics are based on the things that employees are most able to directly control.  Commission is paid out monthly. The authors highlight several advantages of this approach:
All employees are inherently motivated to help the company focus on creating revenue.
Job security and company stability increases as payroll rises and falls automatically along with revenue creation.
It is a structure that acts like a stock dividends, motivating teams to pull together and work harder as they think of what is best for the organization.
It closes the gaps and divisions between departments by ensuring everyone is focused on revenue, profit, and savings, versus individual departmental agendas.
There are also disadvantages with their commission structure that the owners of this SME business have encountered, including:
The constant need to adjust and adapt a complex compensation system since the commission plan is different for every role and every department. Ratios range from 10 percent salary and 90 percent commission for salespeople to 80 percent salary and 20 percent commission for others.
Being compliant with law regarding overtime pay. This require support from HR to build a program that ensures compliance at all times
The commission structure isn't for everyone. There are some individuals who are unable to adapt to the prospect of compensation that may vary by as much as 50% every month.
Being Transparent
The commission structure used by this organization encourages transparency and team participation. Everyone is aware of the monthly operational target and each day employees get a report on how far they are towards reaching their revenue goal. This approach requires that leaders be fully transparent about targets and employees must be fully accountable for their contribution to the outcome – good, bad or ugly.
This level of trust and involvement is a fantastic way to demonstrate to employees that they are valuable to the business, are respected, and are viewed as equal partners in achieving a win-win outcome.
All for One & One for All!
Since every employee has 'skin in the game,' the organization has observed that towards the end of each month, employees from different departments offering extra resources and help to other divisions. A team member may go to the sales department, for example, to say, "I have an extra half hour. Is there anything I can do to help you finish a sale?"
Employees are empowered to do what is needed to get the job done, and because they have a sense of control over their destiny, they don't feel as if they are going it alone on the road to success.  This means that a rise in income is something that team members can largely influence and control on their own. Resulting in higher levels of engagement, performance and commitment to the whole team.
Giselle Kovary
As president and co-founder of n-gen People Performance Inc., Giselle is dedicated to building strategies and programs that target, motivate and engage a multigenerational workforce. She is a sought after resource to industry leaders, having worked with 18 of the top Fortune 500 companies. Over 60,000 people globally have experienced an n-gen workshop or presentation. She has devoted more than fifteen years to researching the impact that generational differences have on organizational performance. Giselle has co-authored two books: Loyalty Unplugged: How to Get, Keep & Grow All Four Generations and Upgrade Now: 9 Advanced Leadership Skills. She has a Master's degree in communication studies from the University of Windsor.