Our First Decade
After 10 years of working with over 175 companies, training 50,000+ leaders and/or employees and writing two books, we are taking the time to step back, take a deep breath and enjoy the fact that n-gen has completed its first decade.  By taking a first mover advantage in the marketplace, we dedicated our time to becoming the eminent generational experts in Canada.  Our passion for helping organizations drive greater performance and productivity by taking into consideration the values, expectations and behaviours of a multigenerational workforce has been n-gen's unique positioning in the marketplace.  Our niche expertise continues to resonate with clients who realize that generational issues aren't going away and that leaders must get it right in order to have a positive impact on business results.
Our Journey
In 2003, when we launched n-gen People Performance Inc., we had a vision for what we wanted to create – a company focused on expertise, exceptional client service, and fresh, new research.   When we quit our jobs 10 years ago to become entrepreneurs, we had no clients and no products. However, we did have a resounding belief that we could design learning solutions that would help organizations maximize the skills set of the four generations, while managing the differences, to drive greater performance and productivity.
We predicted that the impact of generations on workplace performance would become the next hot button HR issue. However, since we were taking a completely new approach to people management, we didn't know whether or not organizations would care.  Who would be n-gen's first client?  Would clients see the value generational training would add to their businesses?  The answer was yes! Looking back at 10 years of business, we are thrilled to have achieved so much, with the help of a dynamic team of employees, facilitators, partners and clients.
Our master facilitators have brought n-gen sessions to life for participants around the world.  Their commitment to delivering engaging, fun, informative, inspiring and relevant training sessions has been critical to our success.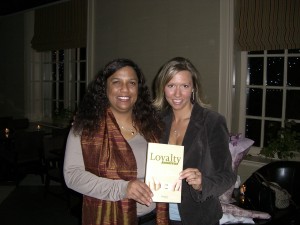 Writing our first book Loyalty Unplugged: How to Get, Keep, & Grow All Four Generations was a big undertaking, we waded through the existing research, while creating new perspectives to craft the first resource guide for HR leaders.  In delivering solutions, our clients helped direct our thinking and guided us as to how to best serve them.  The decision to expand to 5 practice areas – Sales & Customer Service; Leadership; Team Building; Gen Y; HR Training and to deliver level 1 and level 2 programs was in response to client requests for deeper, more advanced content.  Our programs are always aligned to our clients' business needs, with a focus on how to driver greater performance and productivity. Our second book Upgrade Now: Advanced Leadership Skills, leveraged our knowledge and  expertise built from  hundreds of client sessions and consulting engagements to create a practical leadership guide for leaders.  Our sneak peek into the 5th generation (the Global Generation) and what to expect from the future workforce, forms the basis of new content for us to explore.
A Big Thank You
On behalf of the entire n-gen team we'd like to thank the more than 175+ clients with which we have worked,from almost every industry.  We have delivered learning to bankers, IT professionals, educators, public servants, funeral home directors, boilermakers, accountants, farmers, sales people, police officers and almost every other sector in between.  The diversity of our clients has been one of the most rewarding parts of our work.  Learning about how different organizations function and how generational differences impact their work environments has been fascinating.
The world's best organizations have engaging n-gen and we'd like to thank a wide range of clients for their support:
Astral Media
Chevron
Cisco System International
Clorox Company
Deloitte
Enbridge
Canadian Federal Public Service ministries
Freddie Mac
Novartis Pharma Canada
Ontario Public Service ministries
Scotiabank
Shoppers Drug Mart
Winners (TJX)
Xerox
The Next 10!
Our work isn't done!  While organizations and leaders are aware that four generations exist, they still have not effectively incorporated a generational perspective into their operational plans and HR strategies.  We continue to research – our latest focus is on human capital risk from a generational perspective.  We continue to help HR leaders be more strategic in how they manage, engage and leverage their people resources to deliver better business results.  We continue to seek out partners that can add value to our offering, by further enhancing how learning comes to life.
Our future forward vision is one in which our clients are able to perform better, sell more and engage their people more effectively, by leveraging our generational expertise.
Join us as we move into our next decade, harnessing the past to launch forward!
Follow us on Twitter @ngen_training to see some retro n-gen pictures we'll be posting over the next few months, or like us on Facebook to stay in the loop.
We'd love to hear from you –  please comment, post, tweet, your favourite n-gen memory.  We can't wait to hear what you've loved about our 10 years.
Thank you for all the support!
Adwoa K. Buahene & Giselle Kovary