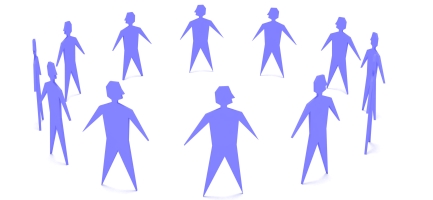 Making Seasonal & Temporary Employees a Part of the Team
As we approach the summer, many organizations are ramping up to bring in temporary employees , summer students or contract workers for short-term projects.
When interviewing seasonal and temporary candidates, recruiters need to communicate what makes the temporary job a 'win' for the employee. Perhaps it is a flexible schedule, or a resume boost with new skills, it couldbe in a new field of work that the candidate is looking to enter, or, perhaps this is secondary job that will help supplement income. The process and attitude toward recruiting a temporary employee should be no different than hiring a permanent one.
This is particularly important when recruiting Gen Xers and Gen Ys who believe that they should be treated fairly, even if they are only temporary employees with your organization.
Engaging Seasonal and Temporary Employees
Leaders and managers should engage employees during their entire employment period. It doesn't matter if it's for a month, a quarter, or for a full year.  All employees should be treated as important members of the team since this will impact overall team performance. critical
Seasonal/temporary employees should have access to most, if not all, of the perks that full-time employees do. For example, they should be able to access discounts (in store or with business partners like fitness centres), staff lunches and parties, performance rewards, incentives etc. Temporary employees should also have access to as many of your total rewards as is legally possible.
Full-time colleagues should be encouraged to collaborate with temporary ones as effectively as with other full-time employees. Temporary employees should receive all corporate communications, should attend team meetings, and should be aware of departmental goals and objectives.
By treating temporary employees as part of the team, you will create a greater emotional connection with employees. The result will be that they will be more likely to speak highly of your organization, to represent your brand well, and to encourage friends and family to buy your products and services. They are also more likely to accept accountability in their role and will be more likely to want to succeed in their tasks.
Also, by treating all employees as part of the team, they become a potential pool of candidates for permanent employment in the future.
Generational Considerations
For all generations, but in particular for Gen Xers and Gen Ys, seasonal and temporary employment is a test drive. This means that the temporary assignment is a trial period for both parties. Employees are evaluating your organization just as much as you are evaluating them.
It may be the case that temporary employees will accept full-time, permanent employment with you even if they are not  fully engaged. However, you can be assured that while they are working with you that they will either continue to look for other opportunities or will already have determined how many months they need to stay in order to make the position legitimate. It's important that employees be engaged from day one with your organizations.
The cost of not taking the right approach could be rapid turnover, as employees jump ship to another temporary assignment. Even if they stay with your organization, they may have lower levels of productivity, as these employees might do their jobs, but not give any discretionary effort in their roles.
Giselle Kovary
As president and co-founder of n-gen People Performance Inc., Giselle is dedicated to building strategies and programs that target, motivate and engage a multigenerational workforce. She is a sought after resource to industry leaders, having worked with 18 of the top Fortune 500 companies. Over 60,000 people globally have experienced an n-gen workshop or presentation. She has devoted more than fifteen years to researching the impact that generational differences have on organizational performance. Giselle has co-authored two books: Loyalty Unplugged: How to Get, Keep & Grow All Four Generations and Upgrade Now: 9 Advanced Leadership Skills. She has a Master's degree in communication studies from the University of Windsor.