We're excited to announced the release of our latest research on how COVID-19 has impacted the different generations in the workplace.
Do you want to know how your leaders and employees really feel as we all navigate COVID-19?
If you're looking for insights and recommendations on how to support your leaders and employees further, check out our infographic below and gain access to the full 28-page research report here.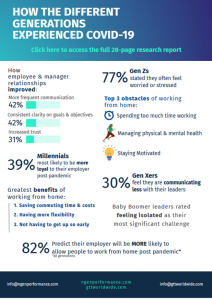 Giselle Kovary
As president and co-founder of n-gen People Performance Inc., Giselle is dedicated to building strategies and programs that target, motivate and engage a multigenerational workforce. She is a sought after resource to industry leaders, having worked with 18 of the top Fortune 500 companies. Over 60,000 people globally have experienced an n-gen workshop or presentation. She has devoted more than fifteen years to researching the impact that generational differences have on organizational performance. Giselle has co-authored two books: Loyalty Unplugged: How to Get, Keep & Grow All Four Generations and Upgrade Now: 9 Advanced Leadership Skills. She has a Master's degree in communication studies from the University of Windsor.