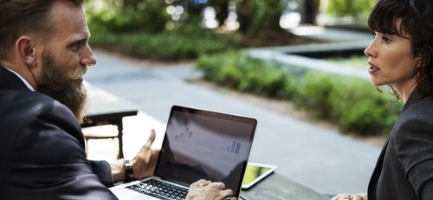 Last week I presented at the annual Society for Human Resources Management conference in New Orleans. With more than 15,000 HR leaders and practitioners at the conference, the energy was and the dialogue was very engaging.  I presented on how to lead a virtual team to increase performance and engagement.  Naturally, given this topic we explored the benefits that virtual work provides employees to create a work-life balance. However, not all employees view this concept the same way and there is increasingly a shift away from creating 'balance' to creating a fluid work style that provides 'integration' of personal and professional lives. In particular, Millennial employees are pushing organizations to provide increased flexibility, agility and fluidity.
Work-Life Balance or Work-Life Integration?
For many employees, work-life balance means properly prioritizing their careers and their lifestyle. This often takes the form of setting boundaries between work and life to ensure that employees can be productive at work, while still finding time for social activities, family, exercise, etc.
However, many Millennials don't necessarily want to set clear boundaries between their work and their life. For a lot of people in this generational cohort, they prefer "work-life integration." This term refers to an overall blending of work life and home life to allow time for both. This blurs the lines between work tasks and personal activities which can include a person doing online shopping, checking social media, going to the gym or taking their dog for a walk during work hours while responding to work emails on evenings and weekends.
Of course, this doesn't mean that Millennials want to work all of the time, nor does it mean that they won't work hard or be committed to project goals.  It's about being able to achieve everything an employee wants to accomplish in a day or week in a more fluid way.
Millennials Want to Live Outside the 9-to-5
Millennials don't necessarily want to do more work than other generations, they just want to be able to do the same amount of work in a more flexible schedule. In fact, when flexibility is leveraged work productivity increases and the volume of work can increase. Many Millennials don't see a reason for spending eight straight hours working, but would rather work at various times throughout the day with breaks in between. Generally this cohort doesn't have a problem doing some work on a Sunday evening, but also want to be able to run a few errands on Wednesday afternoon.
Obviously the largest driver of being able to adopt a fluid work style is technology. In the past, not only did more employers expect that work would take place in an office, but it was almost a necessity that this occurs. Working remotely was often difficult, costly, confusing, and frequently not very effective. Today, almost everyone can do at least part of their jobs outside the workplace.
Thanks to smartphones, email, instant messaging, video chat, and numerous online collaboration tools, more and more people are doing work away from their desks. We live in a 24/7 connected world and, therefore many people (especially Millennials) expect to take full advantage of this fact.
A study of American workers by Reachmail found that only 25% of people say they have never sent a work email after 6pm while 23% of people have sent work email after midnight. The survey also found that Millennials get the most work-related email after hours out of any generation and that Gen Xers are most likely to send a work emails after midnight. However, the survey also notes that 49% of Millennials have never sent a work email after 9pm, indicating that this cohort does set boundaries.
The survey also found that only 1-in-4 employees are 'bothered' by receiving work emails outside of work hours, which demonstrates the high level of acceptance that we no longer live in a 9-to-5 world.
How Organizations Can Help
One way that organizations can help with work-life balance and work-life integration is to allow those who would prefer to work remotely to do so when possible. Depending on the nature of your business, it may not be possible to let all employees work remotely all the time, but occasional remote work may be feasible.
Considering more flexible schedules is also a good idea. Some organizations have "rolling start times" where people are able to come into work any time between 8am and 10am, for example, and then leave work eight hours later. Those who prefer an early start and an earlier end time can do so, while people who would prefer to start later and finish later can structure their work style that way.
If it's important to the business that everyone in the company work in the office and at the same time, leaders can still allow for some flexibility by allowing team members to take care of some personal tasks during work hours, within reason. The organization and its leaders must determine what is considered reasonable. Some leaders may decide that checking personal social media during work hours is acceptable, while other may be okay with letting team members step out of the office briefly to run personal errands. Again, it will depend on the nature of the business.
Of course, in all organizations, it's important that leaders set clear expectations for team members. Whether they are working remotely, in the office, or a combination of both, all employees needs to know what is expected of them in terms of results and what constitutes professional behaviour at work. In addition, if team members are required to be available outside of the traditional workday, it's important that leaders discuss "on hours" and when people are expected to be available to respond to emails, etc. This ensures that everyone is on the same page and that important business needs don't get overlooked.
As organization shift into a new world of work, virtual teams and the ability to maximize flexibility through technology will become increasingly commonplace.  Those organizations that capitalize on this and embrace the benefits will be able to attract and retain Millennials and high performers from all generations.
Giselle Kovary
As president and co-founder of n-gen People Performance Inc., Giselle is dedicated to building strategies and programs that target, motivate and engage a multigenerational workforce. She is a sought after resource to industry leaders, having worked with 18 of the top Fortune 500 companies. Over 60,000 people globally have experienced an n-gen workshop or presentation. She has devoted more than fifteen years to researching the impact that generational differences have on organizational performance. Giselle has co-authored two books: Loyalty Unplugged: How to Get, Keep & Grow All Four Generations and Upgrade Now: 9 Advanced Leadership Skills. She has a Master's degree in communication studies from the University of Windsor.